Thrift Books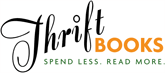 November 2008, Connecting education to the larger community is the brainchild of a new partnership between Thriftbooks.com and Wings of the Dawn. The collaboration pioneers improving literacy for the "entire community" by shipping books "for all ages" to Lifelong Learning Centers throughout Africa. The aim is to provide quality reading materials to engage neighborhoods in customizing educational and entrepreneurial activities that respond to the needs of their community.
Thriftbooks.com is one of the largest online used bookstores in the United States. Its four distribution centers are located in Washington, Oregon, Michigan, and Georgia. Nearly 4 million books are listed online and for sale at any given time. Thriftbooks.com has been featured in The New York Times, The Wall Street Journal, and The National Business Journal for their pioneering methods in online used bookselling.
Wings of the Dawn is a nonprofit organization based in Texas that installs Lifelong Learning Centers in Africa as an intergenerational model where adults and youth own, tailor and manage education and community revitalization services. It specializes in setting up these centers in communities without libraries and upgrades existing educational facilities to serve as central locations where children, youth and adults can have access to education, employment and business resources.
The alliance between Thriftbooks.com and Wings of the Dawn will create an enriching educational environment where the community, learning together, will develop the skills necessary to bridge the gap between poverty and prosperity and build a better society for themselves and future generations of Africans.